Are you using ShrtFly to shorten your URLs and earn money? Congratulations on your success! Now, you must be wondering how to make a payout request on ShrtFly to access your hard-earned funds. In this comprehensive guide, we will walk you through the step-by-step process, ensuring that you can effortlessly claim your earnings. Let's dive in!
How to Withdraw Your Money from ShrtFly Account
ShrtFly is a URL shortener website that allows you to earn up to $12 for every 1000 views, making it one of the highest payout rates among other URL shorteners. Once you reach the minimum payout threshold of $5, you can withdraw your earnings at any time. The withdrawal system operates on a request-based model, meaning you can request a payout and withdraw your money on any day without a specific date constraint.

Understanding ShrtFly Payouts
Before we delve into the process of making a payout request on ShrtFly, let's take a moment to understand how the payout system works. ShrtFly is a trusted URL-shortening service that offers an opportunity for users to monetize their shortened links. As you drive traffic through these links, you earn money based on the number of views and clicks.
How to Make Payout Requests on ShrtFly: Step-by-Step Guide
Now, let's get down to business and explore the step-by-step process of making a payout request on ShrtFly. Follow these simple instructions, and you'll be well on your way to unlocking your earnings!
Step 1: Login to Your ShrtFly Account
To begin the payout request process, you need to log in to your ShrtFly account. Open your preferred web browser and visit the ShrtFly website. Enter your credentials, including your email address and password, and click the "Login" button. Once logged in, you'll be directed to your account dashboard.
In your ShrtFly account dashboard, look for the navigation menu. Locate and click on the "withdrawals" option. This will take you to the payouts section, where you can manage your earnings and initiate the payout request.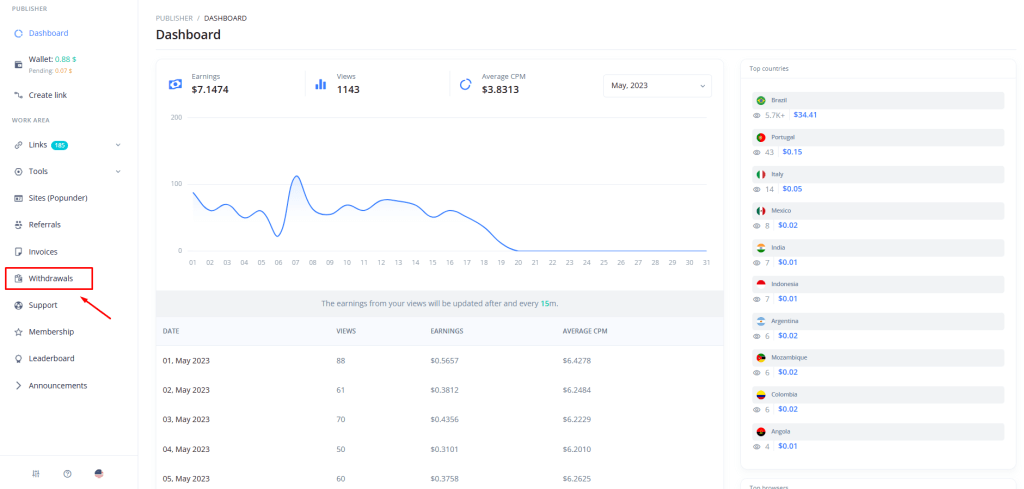 Step 3: Review Your Earnings
Upon entering the withdrawals section, you'll find an overview of your earnings. Take a moment to review your accumulated balance and ensure that it meets the minimum payout threshold. It's essential to note that the minimum threshold may vary depending on your chosen payout method.

Step 4: Select Your Preferred Payout Method
In this step, you will choose your preferred payout method. ShrtFly provides multiple payout options to accommodate various user preferences. Common payout methods include PayPal, Paytm, Payeer, Perfect Money, UPI, USDT, Payoneer, and Bank Transfer. Consider the convenience, fees, and processing times associated with each method before making your selection.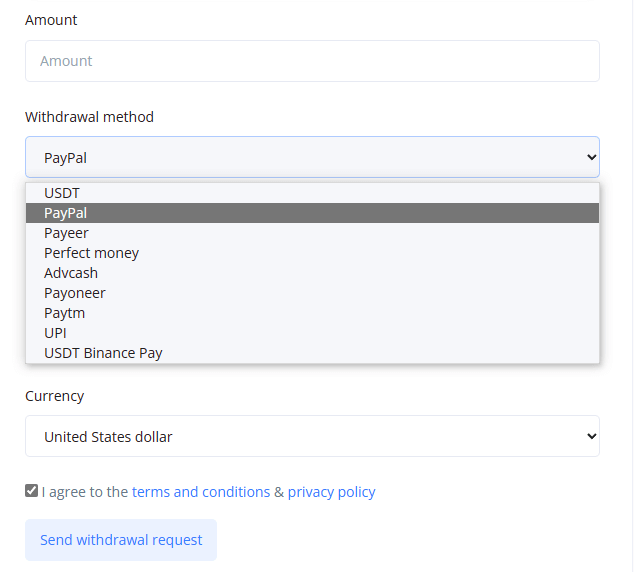 Step 5: Enter Payout Details
Once you have selected your preferred payout method, it's time to provide the necessary details. For example, if you choose PayPal, you'll need to enter your PayPal email address. If you opt for a bank transfer, you'll need to provide your bank account details. Double-check the accuracy of the information to avoid any delays or issues.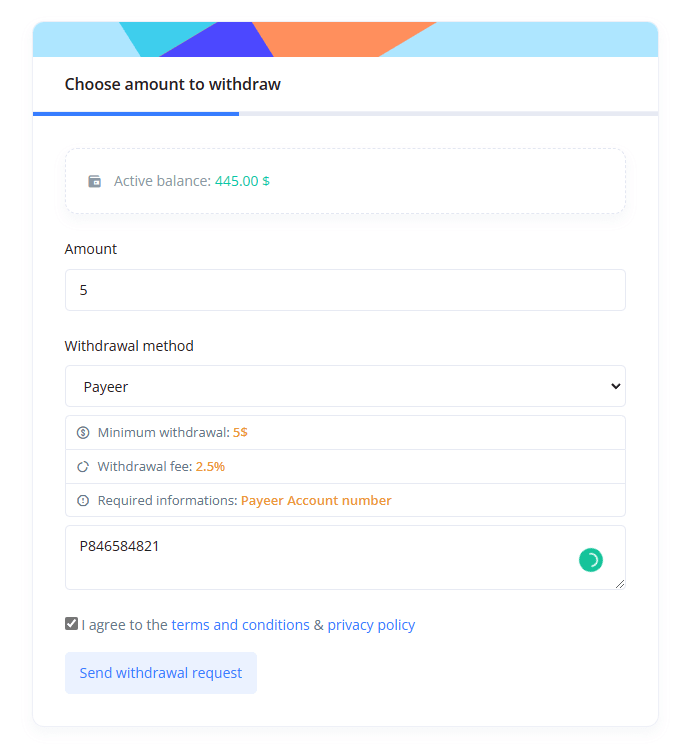 Step 6: Submit Your Payout Request
After entering the required payout details, you can proceed to submit your payout request. Look for the "Send withdrawal request" button and give it a confident click. Congratulations! Your payout request is now on its way to being processed.
Step 7: Track Your Payout Status
Once you have successfully submitted your payout request, it's natural to feel eager about its progress. ShrtFly understands this and provides a handy payout status tracker. You can easily monitor the status of your payout request in the payouts section of your account. This way, you'll stay informed about any updates or changes.

Once we receive the payout request, our finance team will process the payout within 24 hours, we can take up to 4 working business days to process the payments but normally it won't exceed 24 hours.
In case your payout request is rejected or returned to your shrtfly account, it could be some reason, which is shared on the FAQ Page.
Note: You have to request for the payout everytime, because we are not making the payouts automatically, payouts works on manually mode only.
Warning: It is crucial to double-check your payout details every time before making any payout request. In the event that you have provided incorrect or invalid payout details, there is a risk of losing your money. If you have already submitted a payout request with incorrect details, please contact us immediately. We will assist you in canceling the payout request so that you can modify the payout details accordingly.
If you have any other query related to Withdrawal, please write down in the comment below.